Support educational excellence and training for current physics students
The UC San Diego Physics "Chair's Challenge" was established to support educational excellence and training for current physics students: young people who will go on to careers in industry, academia, and government. Whether their primary focus is in astrophysics, condensed matter, biophysics, particle physics, plasma physics, or atomic and molecular optics, they are our future, and deserve our support.
For undergraduate students, the primary goal is to strengthen the outstanding research opportunities that we offer. These funds will help support student fellowships and awards - both during the academic year and during the summer - and will increase their opportunities to gain hands-on experience in a research laboratory setting.
For graduate students, the primary goal is to provide outstanding travel, presenting and networking opportunities. These funds will help our students attend important symposia and conferences, which are crucially important to a well-rounded education experience.
Gifts of any size to the "Chair's Challenge", when combined with matching funds and other gifts, will make an impact on our students' physics training and their ability to think critically and help solve the problems of tomorrow.

PAST CHAIR'S CHALLENGE FUND RECIPIENTS
PRARIT AGARWAL
Year: 2014
Funding for: Workshop at Kavil Institute for Theoretical Physics, Santa Barbara
I visited Kavli institute for Theoretical physics at Santa Barbara during the month of March as a participant of the workshop on 'New methods in non-perturbative phenomenon in quantum field theories.'. This was a wonderful experience I had which enriched my understanding of quantum field theories. Quantum field theory has been the fundamental framework of quantum physics for well over half a century, but many open questions remain about its behavior at strongly coupling. In recent years new methods have arisen to address this. The purpose of this program was to develop these methods and the connections between them. I thus got to interact and learn from a lot of people who shared similar interests as me but took different approaches to tackle these issues. These approaches included but were not limited to methods in gauge/gravity duality, string theory, supersymmetric field theories etc. Apart from the learning experience itself, the whole atmosphere of the workshop also contributed to my enthusiasm and excitement about studying the quantum field theories in general.
LEANDRA BOUCHERON
Year: 2014
Funding for: APS March Meeting, Denver
Attending the APS March Meeting was invaluable to my graduate student experience as it allowed me a rare window of opportunity to see and understand how scientific knowledge is dispersed. Such conferences are instrumental in bringing together the scientific community to tackle large problems across multiple fields and disciplines and to inspire novel research directions and new collaborations. Discussions with graduate students and faculty alike following my contributed talk resulted in a deeper understanding of my own project and how it fits into the vast network of scientific discoveries. While the breadth of scientific projects being performed at a large research-focused university such as UC San Diego is phenomenal in itself, it is no substitute for the scientific community at large. Thank you for allowing me the freedom to attend this conference as I explore future career opportunities following the completion of my Ph.D.
JACOB STANLEY
Year: 2014
Funding for: APS March Meeting, Denver
The annual APS March Meeting is an essential opportunity to network within the physics research community. Collaboration is a cornerstone of successful scientific research and the APS March Meeting helps facilitate such collaboration by providing a forum to grow one's professional network. Whether it's securing a future post-doc position, finding new collaborators to supply samples or just reconnecting with old friends and colleagues the March Meeting is a unique chance for networking. Thanks to the funding provided by the Chair's Challenge Award I was able to take advantage of this great opportunity.
ILYA VALMIANSKI
Year: 2014
Funding for: APS March Meeting, Denver
I would like to express my deepest appreciation to the Chair Challenge Fund and its generous donors for helping make my travel to the American Physical Society March Meeting possible. March Meeting is one of the most important condensed matter physics conferences with over ten thousand presentations. Attending this week long event has allowed me to learn about new developments not only in my own field, but also in other disciplines. Because of this conference, I was able to start a new collaboration and have new ideas about experiments I can do here at University of California, San Diego. Without the contributions of the Chair Challenge Fund donors and other fellowships all of this would not be possible.
SHENGLONG XU
Year: 2014
Funding for: APS March Meeting, Denver
I attended the APS marching meet in Denver 2014, and gave a talk titled as 'Sign problem free Monte Carlo simulation on itinerant ferromagnetism'. This feast of physics not only provided me the great opportunity to present my work under the supervision of Prof. Congjun Wu, but, more importantly, opened a window for me to other branches of the field besides my own project. During the five days staying there, I heard many insightful presentations and got a chance to talk with professors and peers outside UCSD, which helped me gain a better broad view of the community and understanding on the trend of current condensed matter research. Such experience will certainly benefit my future research.
WANG YANG
Year: 2014
Funding for: APS March Meeting, Denver
No doubt a feast the annual March meeting is for the whole condensed matter community. Being the first time for me to attend the meeting, the five-day trip is both challenging and enjoyable. What challenged me is not only the oral presentation I gave, but also hundreds of talks from other people. My oral report was based on a work that I have been doing under guide of Professor Congjun Wu and in collaboration with Miss Yi Li. Talks in the meeting-the titles of which fill up a whole thick book-provide a very good opportunity to get to know about trends and foci of the field. The meeting is also a good place to meet with friends, both new and old. I would like to thank very much Chair's Challenge Funds for funding me attending the meeting to have this valuable experience.
YICONG MA
Year: 2014
Funding for: APS March Meeting, Denver
As a last year PhD student, being able to attend the largest conference in the area means a lot to me. It is a valuable experience not only for its scientific content, but also for a great opportunity of meeting people with different backgrounds who open up possibilities for career after graduation. During the meeting, I was able to talk to professionals, career advisors, executives in industries and make connections with some important contacts for my preparation of pursuing my entrepreneurial path after graduation. I would like to give my greatest appreciation to everyone who donates to Chair's Challenge fund.
IVANNA ESCALA
Year: 2014
Funding for: WIP Conference, Oakland, January
The WIP conference provided me with an excellent opportunity unlike any other to attain thorough information and advice catered to women regarding career paths in physics. Attending the conference strengthened my resolve to pursue a Ph.D. in physics, due in part to its showcasing of inspirational and successful female physicists, and gave me a sense of community in a male-dominated field. It was an invaluable experience that I suggest to all female undergraduates in physics.
Image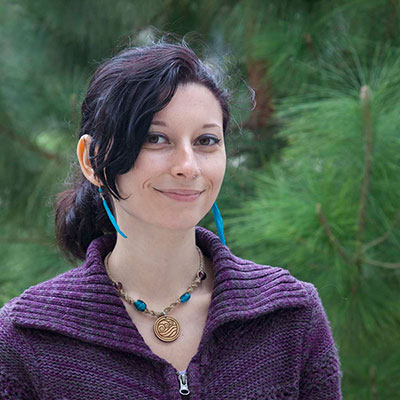 ANNIE KHACHATRYAN
Year: 2014
Funding for: WIP Conference, Maryland, January
I attended the Undergraduate Women in Physics Conference in Maryland in January 2014. This was a very fruitful educational and networking experience for me. I valued mostly the exposure to real life scientists with direct interaction with them and the chance to get personalized academic advice. I also had the opportunity to present a poster and speak about the research I do as an undergraduate at UCSD. The poster presentation was of utmost importance for me since it was the gateway for feeling a part of the scientific community outside of school. I really got the taste of one of the very many flavors a career in science has to offer. I would like to thank Dimitri Basov, the Chair of Department of Physics at UCSD, and everyone else who donated to the Chair's Challenge for funding my trip to Maryland. I would also like to thank Erin Gerlach and Karen Andrews for helping with the realization of the opportunity to attend the conference. Without everyone's help, this experience would not have been possible for me.
Image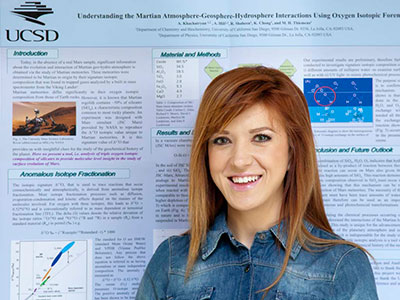 AISHA IYER
Year: 2014
Funding for: Presentation of Research on TWA 30AB at American Physical Society Meeting
I attended the APS April Meeting of 2014 to present a poster on my current project titled: Mid-Infrared Variability of the Low Mass Stellar Binary TWA30 A and B. Being my first APS meeting, this conference was very informative for me. I got a chance to attend talks by various graduate students on topics such as theoretical simulation of neutron star collisions, some general relativity and particle physics topics, etc. Additionally, I also attended the 'Plenary session: treasures of the cosmic frontier' talk on the Ice Cube experiment by Dr. Neilson and physics outreach talk by Dr. Neil deGrasse Tyson. At the end of the second day of the conference I also got a chance to attend the viewing of the documentary 'Particle Fever'.
As an undergraduate student, attending this conference was very beneficial for me to network and get inspiration especially from physicists such as Dr. Kate Kirby and Dr. Tyson. I was also delighted to make connections with other undergraduates and graduate students from other universities. In all, it was a very exciting trip!
Image